The Office of Ethics and Business Conduct is committed to providing a range of services to CGIAR staff and centers.
These include training and outreach to support the promotion of ethical culture in line with CGIAR's Core Ethical Values, confidential and individualized advice, policy input and development, as well as helping to address issues of scientific research ethics. A number of useful resources are provided below.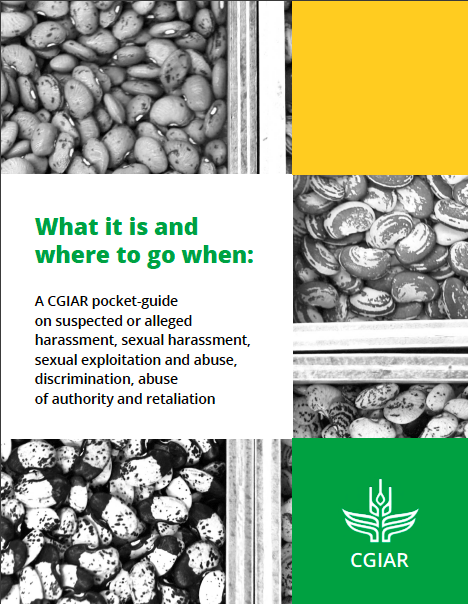 CGIAR POCKET GUIDE ON SUSPECTED OR ALLEGED HARASSMENT, SEXUAL EXPLOITATION AND ABUSE, DISCRIMINATION, ABUSE OF AUTHORITY AND RETALIATION
Further CGIAR-wide ethics and business conduct policies are currently under development. For a CGIAR entity's governing ethics policies (including codes of conduct, safeguarding policies, anti-harassment, whistleblowing, etc.) please contact the entity's Human Resources/People and Culture office.
Ethics eLearning and other courses for all CGIAR staff
Looking for Research Ethics Resources?
Find them on our dedicated page
CGIAR COUNSELLING SERVICES
THE ROME INSTITUTE
The CGIAR Counselling Service is a professional, confidential and free service available to all staff worldwide. It provides one-to-one counselling and group specialist assistance on a range of personal, family, social, psychological and mental health issues in a non-judgemental and open manner. It also provides a range of wellbeing, resilience and mental health advice and information. 
The Counselling Service is outsourced to The Rome Institute, which is a highly experienced organization used by a number of UN agencies for counselling services.

Interested Staff contact The Rome Institute in confidence, using the following link: